The Dutch system for medical billing can be different to that of other countries. Depending on your insurance, and what policy you have, there are many variables that can affect whether we bill you or your insurance company directly, whether your insurance covers the full or only partial costs, whether you require a referral letter from your GP to see a specialist, etc. To find out more about Dutch insurance and how the Dutch healthcare system works, follow this link.
To find out more about our billing procedure, please select which department the invoice relates to:
Do you have Dutch insurance and want to see a medical specialist? If you visit one of our medical specialists with a referral from your GP you will only have to pay your deductible (eigen risico), the IHCH will cover your personal contribution! Find out more under Polyclinic Billing. Please note that the IHCH is offering this in the context of catch-up care after COVID and it is temporary.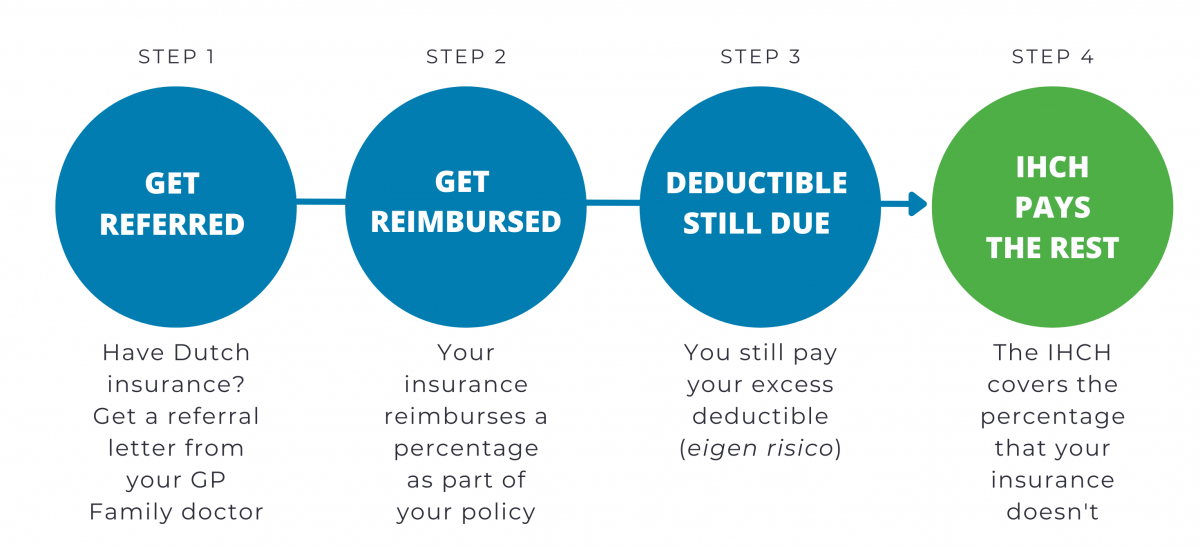 Depending on your Dutch insurance policy, only a certain percentage of the cost of visiting a medical specialist (providing you have a referral from your GP Family doctor) will be paid by your insurance. Therefore you would normally have to pay your own contribution in addition to what the insurance covers. In 2022, the IHCH will cover your personal contribution! Note that this is different to your deductible (eigen risico). You will still need to pay your excess deductible. 
Price List Polyclinic
We update our Polyclinic price list yearly, in accordance with the national price changes. To find the latest price list, click here.
Please note that a telephone consultation will be charged the same as a physical consultation (also see NZa rules during corona).
Annual registration fee
Please be aware that an annual registration fee, renewable each year, may apply. The registration fee or inschrijftarief is common in The Netherlands to cover the regular running costs associated with operating a medical practice. The fee is per registered family member (registered for GP / all medical services) and is usually reimbursed by insurance companies. Please contact us via email adminihch@ezorg.nl if you would like further information.
GDPR and your Privacy
In accordance with the GDPR (General Data Protection Regulation) all sensitive data, including medical and financial information are submitted to your secure portal provided by KPN Zorg Messenger.
You have to first sign up and create an account with KPN Zorg Messenger as instructed in the first email you receive from us before you can view the content.
Cancellations
Please familiarize yourself with our cancellations policy. We adhere to a strict 24-hour No-show / Late cancellation policy.  Therefore, please be aware that unless we receive at least 24 hours notice by emailing prior to the cancellation of an appointment with one of our medical professionals, you will receive an invoice and be charged a No-show / Late cancellation fee.