Access your prescribed medicines 24/7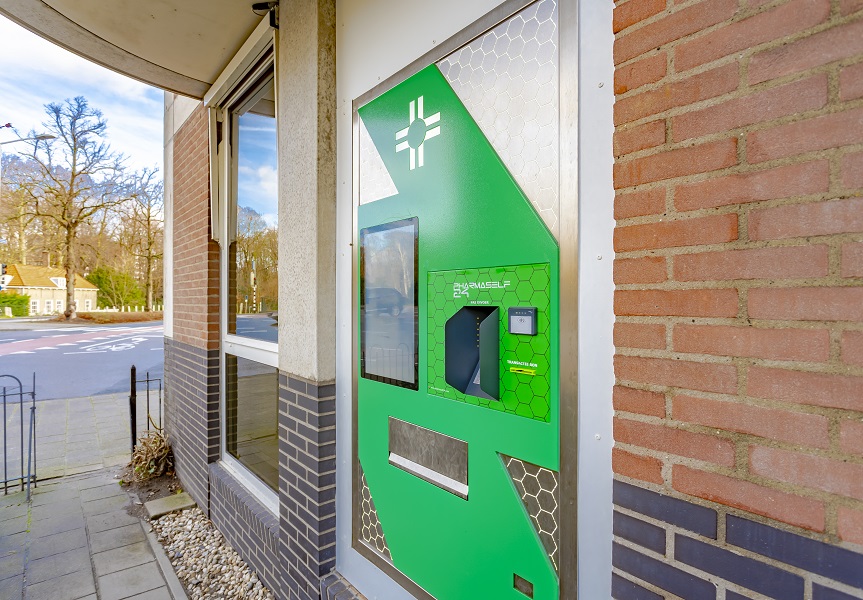 You may have noticed what looks like a vending machine in the small garden around the corner from our main entrance. We know it may not always be possible for you to make it to our pharmacy during our opening times, hence the Pharmaself24 machine. This device is open 24/7, so you can access your prescribed medicine/s at any time. It can be reached via the facade of our building, in the small garden, around the corner from the main entrance.
As soon as your medicines are ready, you will receive a confirmation and pick-up code via email or text message.
How does it work?
As soon as your medicines are ready, we will put them in this dispenser. Immediately afterwards, an email or text message is sent to the customer. This email contains a numeric code that you use to remove the medication from the device. The device has a touchscreen. At the top left you will find the button 'language' so that you can change the language to English.
In addition to the code you received by email, the device also asks for the first digits of your date of birth. If you are born on the 4th of July 1966 for example, you have to fill in 0407.
Please ensure we have have your correct email address and telephone number so that you can receive this code. Unfortunately not all medicines are suitable to be dispensed via the Pharmaself24. You will be notified by the pharmacy to pick these up during our opening times at the pharmacy itself if this is the case.

For questions, please contact the pharmacy on 070 306 5122, and they will be happy to assist you.